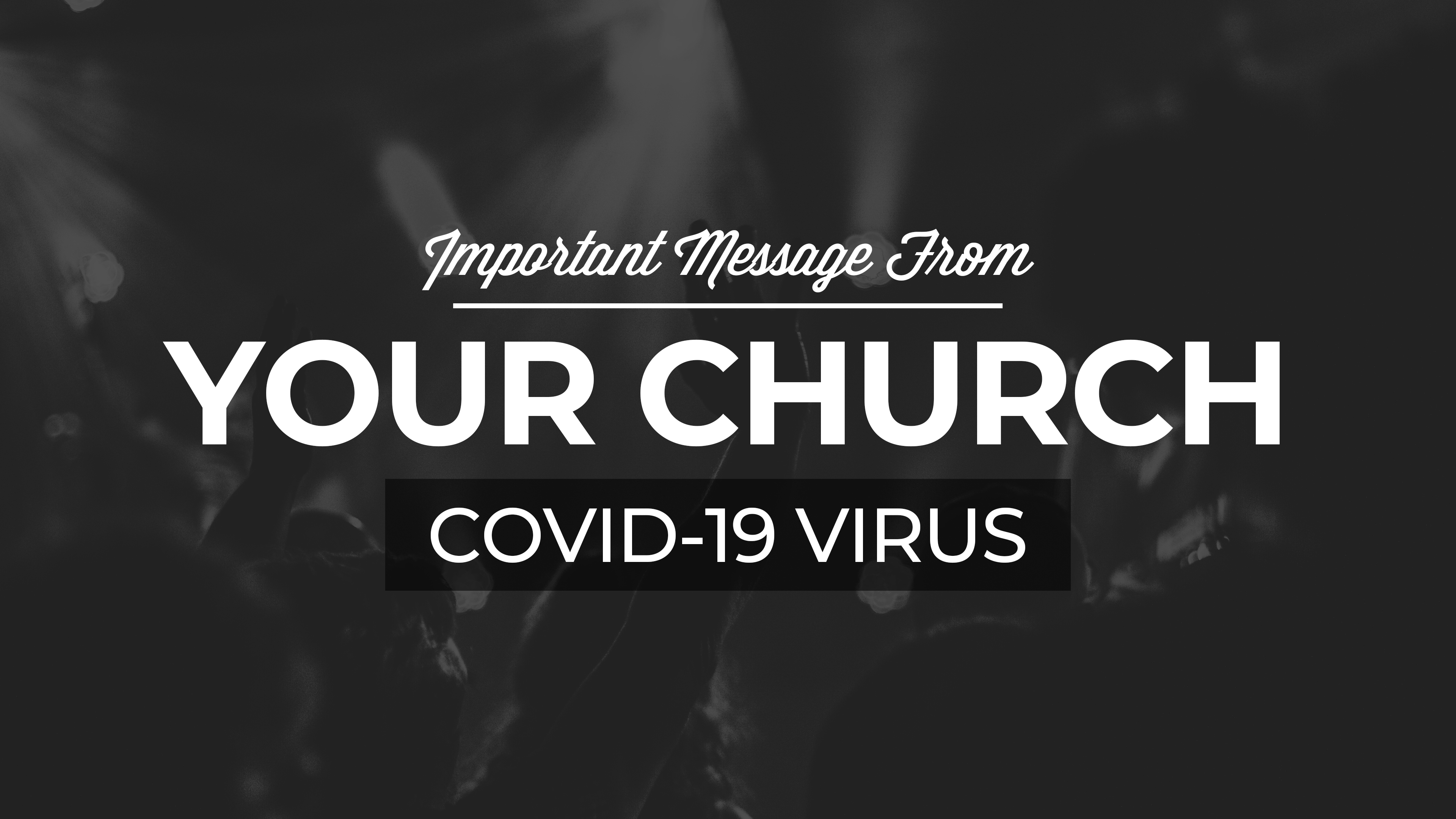 Dear Spring Creek Baptist Church Family,
I wanted to take some time to reach out to you to encourage you in this difficult time as well as provide some information for the days ahead. While times like these are not completely unheard of in the history of the world, many of us have never lived through times exactly like these. Many within society at large have given into fear and panic, many feel hopeless. It is in times like these that I am reminded of the words of Paul from Romans 8:35-39:
"Who shall separate us from the love of Christ? Shall tribulation, or distress, or persecution, or famine, or nakedness, or danger, or sword? As it is written, "For your sake we are being killed all the day long; we are regarded as sheep to be slaughtered." No, in all these things we are more than conquerors through him who loved us. For I am sure that neither death nor life, nor angels nor rulers, nor things present nor things to come, nor powers, nor height nor depth, nor anything else in all creation, will be able to separate us from the love of God in Christ Jesus our Lord." (ESV)
The Good news is that no matter what is happening in the world around us, as followers of Jesus we can still have hope. Not only from text like these, but also because we know how the story ends. Those who truly know Jesus, who have put their faith in the finished work of Jesus who rely not upon their on righteousness but upon His, not only have their sins forgiven, but will get to spend all eternity in the presence of God in a place of unending bliss. That is truly Good News that we can celebrate not matter what is going on in the world around us.
In recent days, pleas have been made from many different sources requesting that we first limit and now that we postpone larger gatherings due to the spread of the novel Coronavirus (COVID-19). Pleas have been made from world and national health agencies, pleas from our Governor and pleas from the White House itself, which would include larger church gatherings. Our insurance company has sent out a video with legal advice concerning issues related to the virus in which they advocate churches limit gathering in accordance to what the Federal and State governments are recommending. While the Governor has made it clear that he is not telling churches that they must not gather, he is respectfully asking that we not meet in larger group settings in order to help limit the spread of the virus. While it is true that God gave us a spirit not of fear but of power and love and self-control as Paul reminds us in 2 Timothy 1 and that we should not [be] neglecting to meet together, as is the habit of some, but encouraging one another, and all the more as you see the Day drawing near as we are prompted to do in Hebrews 10:25, we also have this command from God through Paul in Romans 13:1-7:
Let every person be subject to the governing authorities. For there is no authority except from God, and those that exist have been instituted by God. Therefore whoever resists the authorities resists what God has appointed, and those who resist will incur judgment. For rulers are not a terror to good conduct, but to bad. Would you have no fear of the one who is in authority? Then do what is good, and you will receive his approval, for he is God's servant for your good. But if you do wrong, be afraid, for he does not bear the sword in vain. For he is the servant of God, an avenger who carries out God's wrath on the wrongdoer. Therefore one must be in subjection, not only to avoid God's wrath but also for the sake of conscience. For because of this you also pay taxes, for the authorities are ministers of God, attending to this very thing. Pay to all what is owed to them: taxes to whom taxes are owed, revenue to whom revenue is owed, respect to whom respect is owed, honor to whom honor is owed.
So, what are we to do in times like this? Keep meeting and go against the rulers God has set over us, or give up meeting for a time? It is a difficult situation to have to make. But there are a few more things that must be considered before the choice is made, not more data than we already have from health experts, not more pleas from federal, state, and/or local governments than we already have, and not further explanations from the church's insurance, but from considering the Word of God itself, the full council of God's word. What else does it say, or situations does it present in the History of God's people that might be relevant for us today?
First and foremost, we are called to love our neighbors. In Philippians 2:3-4 we are told. "Do nothing from selfish ambition or conceit, but in humility count others more significant than yourselves. Let each of you look not only to his own interests, but also to the interests of others." So how does this apply in our current situation? We are dealing with a virus that spreads relatively easily, it appears to "live" on surfaces for a while even after coming into contact with said surfaces and it can spread through the air, which means that even if one was to be super diligent in cleaning, one could still spread the virus through the act of sneezing or coughing. The other notable feature of the virus is that in many cases, it causes people infected to have relatively minor symptoms or to appear asymptomatic. Many may not even know they have it, but still could spread it to someone that it could ultimately wind up killing. Now I know and have heard from many that they do not mind getting the disease or even dying from it. While this is understandable, and could even be considered admirable in certain circumstance, how would this ultimately be loving to one's neighbor, both those who know the Lord and who do not? Is it loving to potentially put someone else life at risk by my actions, especially if the other person is an unbeliever? We cannot just think of ourselves, but others as well. We have people not only in our congregation that are immunocompromised and others that are in high risk demographics for sever reactions to the virus if they were to become infected, but in our community at large.
Secondly, I have talked to many others that say God protects His people, or that My God is bigger than this virus, so we should still meet anyway. This is certainly true. God is the ultimate, the sovereign of the universe. He is all knowing, all powerful, all loving, and all wise. We certainly see him do amazing things throughout scripture and even this very day. I think about the amazing way God delivered the people out of bondage in the book of Exodus, which many are familiar with, and Judah in the days of King Hezekiah (which you can read about in 2 Kings and 2 Chronicles). All hoped looked like it was lost, but God, in His sovereignty brought about salvation for his people. But sometimes God calls us to do things, that to us at least, seem unorthodox, counterintuitive to bring about our salvation, to preserve human life. I think about the days of Jeremiah, specifically during the reign of King Zedekiah. He told the people, the king included, to surrender to the Babylonians and that this would spare their lives and the city. It was God's plan, God's word. For this, Jeremiah was persecuted, even thrown into a cistern. The plan did not make sense to the people at the time, they considered Jeremiah a traitor or someone who hated his people. They seemed to think that just because they were the people of God, and had the temple of God in their midst that would protect them, but they were mistaken. The leaders were executed, the temple was destroyed, Jerusalem was destroyed, and the people were taken into exile. Or think about the Gospel. How crazy that is to man's logic. How God would save us in the way that He does. Think about how Jesus was initially treated by His own people. God's ways are not are ways. Sometimes He saves us differently than we would have thought. Then again sometimes He does not save us, at least from an earthly prospective. Sometimes the people of God suffer greatly. While this is not the time or place to discuss the ethics surrounding the dropping of atomic bombs on Japan in WWII, it must be noted one of the locations in which a bomb was dropped, Nagasaki, was by many accounts was the most Christian city in Japan at the time of the bombing. At the time of the bombing it had the largest Christian Church building in all the Asian Pacific. A church that had a congregation that would, even by today standards, be considered a mega church. Yet Nagasaki was till bombed and thousands upon thousands of Christians lost their lives in the bombing. God loves His people very much, but sometimes, He does permit bad things to happen to them.
Lastly, I wanted to address some misconceptions about what "church" is. The word church never was intended nor ever will be intended to mean merely a building in the biblical sense. Unfortunately, in our society the word "church" the way many people use the term has become synonymous with a building which is biblically inaccurate. The word church is also not an event you go to each week. Again, many people in our day erroneously use the word church to also refer to a weekly event that they or others attend. This is biblically inaccurate as well. So, what is the church? It is the people. The people of God are the church. Those that the Holy Spirt of God indwells are the church. So, whether we meet in one big gathering, or in smaller gatherings in our homes, the church goes on, the church continues. Some people erroneously think that if the church is not all gathered in a specific place at a specific time there is no church. The church continues with or without a building or a specific meeting time each week. The early church conducted meetings in homes or public places, they did not have elaborate places of worship like we have today and certainly would not have considered buildings to be churches.
So, what is essentially being asked of us. We are essentially being asked by those in authority over us to cease gathering in larger groups. Are they asking us to cease being Christians? No. Are they asking us to cease worshipping together? No. It may look differently than we are used to, but they are not asking us to cease from worshipping God nor to cease from existing as a church as the bible would define church. They are asking us, in the interest of others, to merely cease meeting in large groups. Because of Romans 13, because it is not a demand that we violate God's word in order to follow what the government is asking, and out of love for our neighbor I feel it is best to comply with what the government is asking and I ask that others do likewise. When a day comes that the government asks us to do things that are contrary to the clear teachings of the Bible, we must emphatically declare the truth of the scriptures and be willing to give our lives for the cause of Christ. This is not one of those times, however. We must bring ourselves under the authority of all the scriptures. It sets a dangerous precedent when we pick and choose how we will apply texts such as Romans 13 and gladly follow it when it does not disrupt our lives in any way but choose to cast it off, not when we are asked to sin, but rather when it disrupts our routines.
I know that this will not please everyone. Some will be upset and if you are please reach out to me. It is better that we talk about it as brothers and sisters in Christ in a peaceful manner than to let it cause disunity and bitterness. Know that this decision was not undertaken hastily or carelessly, but that much prayer and biblical reflection went into this decision. Know also that I understand that the weight of the decision falls fully on me as an overseer of the church. One day, I will have to give an account before God Himself about how I handled not only this decision but countless others that effect our church body.
So what is the plan moving forward for SCBC? The plan is five fold.
First, we will be shutting down all activities at the church's facilities until the end of March.
We be recording and/or live streaming messages each week until then, and possibly beyond if necessary.
Along with this we will make available worship packets so that you can continue to worship from home. These will include songs to listen to and sing along with, scriptures to read, and questions to ask/ponder dealing with the message of the day.
We also plan to ramp up communication during this time so that we can stay connected to one another, pray for one another, and help meet the needs of the congregation even during this crisis. We will do this through calls, email, social media, and some face to face meeting with members of the congregation.
Finally, we will constantly evaluate the situation.
So what am I asking you to do during this time?
So that we can continue to be united though we are apart, I ask that if possible, at 10:30 on Sunday or as close to it as you can, let us still worship together, though we are apart. I encourage you to go through the worship packet as families and watch the message together as well as discuss the message amongst yourselves.
I encourage you to pray during this time. Pray for the church, its leaders, the world, etc.
I encourage you to be in the Word each day, growing in your relationship with God during this time.
I encourage you to look for opportunities to share the gospel and the love of Christ with neighbors/others. Many do not have hope and are scared, it is important that we share our hope with others and love in sacrificial ways during times like these.
Thank you for your time today, and for being a member of Spring Creek Baptist Church. It is an honor to be your pastor. Know that I am praying for you during this time and if you need anything whatsoever, please do not hesitate to reach out.
In Christ,
Will Thomas